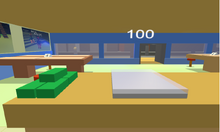 The cash register is located on the front counter, in the serving area, and is graphically a gray box with a dollar amount floating above it.
To add to the cash register, you take the stacks of bills given to you by the customers and drop them on top.
Some players may see the dollar amount as a score, or goal to achieve, but many take it as simply another statistic, and strictly optional.
In the future, Kritz has said there may be upgrades to be able to be purchased with the money your store earns.
Ad blocker interference detected!
Wikia is a free-to-use site that makes money from advertising. We have a modified experience for viewers using ad blockers

Wikia is not accessible if you've made further modifications. Remove the custom ad blocker rule(s) and the page will load as expected.