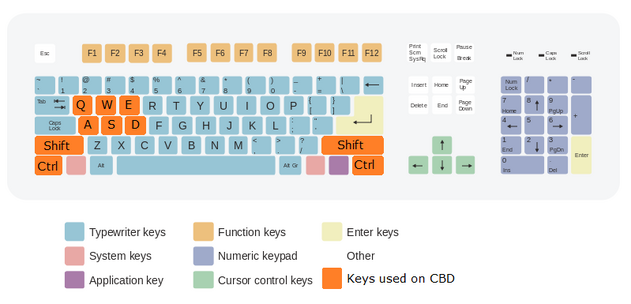 POR: O CBD tem alguns controles muito confusos, mas são fáceis de usar uma vez que você obtém o jeito deles. WASD é para se mover, Q para aumentar a mão esquerda, E para elevar a mão direita, SHIFT para sprint, CTRL para esgueirar, Clique com o botão esquerdo para usar na mão esquerda, clique no direito para usar o extintor de mão direita / fogo e ENTER para conversar. Tenha cuidado ao querer carregar uma caixa sem que ela se desintegra. Não toque na caixa em nada não é desejado .
ENG:
The CBD has some very confusing controls, but they're easy to use once you get the hang of them. 

WASD is to move, 

Q to raise the left hand, 

E to raise the right hand, 

SHIFT to sprint, 

CTRL to sneak, 

Left-click to use an item in the left hand, 

right-click to use the right hand for things like extinguishers

and ENTER to chat.

Ad blocker interference detected!
Wikia is a free-to-use site that makes money from advertising. We have a modified experience for viewers using ad blockers

Wikia is not accessible if you've made further modifications. Remove the custom ad blocker rule(s) and the page will load as expected.