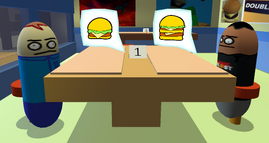 The Customer is an oblate spheroid-shaped entity that comes into the restaurant to tables 1 - 4 and request . Ther'ye orders appear on the orders screen in the kitcen. They can be seen prowlng around the streets outside of the mcdondalds.
Upon succeful completion of a order, achieved by handing them a tray with approximatelyls out to 2$ when entered into the cash hole.
When giving them the wrong burger order, do not re
act. This is likly to change
Trivia
It is possible to force inside of women, but they will resist
There is an E behind the restaurant that involves a guuba.