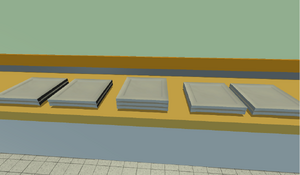 Serving Trays (or plates) are objects used to place burgers on to serve to customers. They are stacked on the ingredients table in 5 stacks.
If you don't put a burger on a tray when serving it to a customer, you will not complete the order.
When you have completed a order, you must wash the dirty trays in the washing room at the back in order for them to be used again.
Ad blocker interference detected!
Wikia is a free-to-use site that makes money from advertising. We have a modified experience for viewers using ad blockers

Wikia is not accessible if you've made further modifications. Remove the custom ad blocker rule(s) and the page will load as expected.